MSC OPERA, MSC CRUISES, ITALY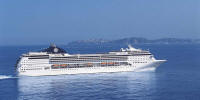 THE PROJECT
Decorative pannels made by a commissioned Artist of our network  for the cabins of the new built cruise-ship MSC Opera of the Italian shipping company Mediterranean Shipping Cruises, during the years 2003-2004. 
Project supervisor for EURAN: Alexandre Mimoglou, Architect, Artist, Designer (France, Greece). 
THE PARTICIPANT ARTIST AND HER WORKS:
Florence Le Page from Paris, France created artworks that were reproduced (photos) in the cabins.
THE ART PANNELS IN PLACE DURING THE CONSTRUCTION
THE SHIP DURING THE CONSTRUCTION
THE INAUGURATION AT THE CHIPYARD IN FRANCE, JUNE 2004
Please click on the images to view them in bigger size.
Copyright art and photos © 2003-2004 the artist, the architects, MSC, EURAN, European Art Networks