MSC ORCHESTRA, MSC CRUISES, ITALY 
THE SHIP
OUR PROJECT
Decorative pannels made by three commissioned Artists of our network  for the cabins of the new built cruise-ship MSC Orchestra of the Italian shipping company Mediterranean Shipping Cruises, during the years 2006-2007. 
Project manager for EURAN: Alexandre Mimoglou, Architect, Artist, Designer (France, Greece). Partner: Maria Papafili, Artist (Greece).
THE PARTICIPANT ARTISTS AND THEIR WORKS:



Claude Gaveau
(Images non available)
_______________
Kuniko Ashizawa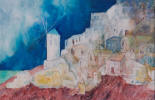 CABINS WITH ART PANNELS
Please click on the images to view them in bigger size.
Copyright art and photos © 2007 the artists, the architects, MSC, EURAN, European Art Networks